Hot Rolled A516 Gr.70 Alloy Steel Plates
Posted:2018-11-30 17:35:27
The boiler plate refers to a special steel plate used for a power station boiler or a steam boiler, and the pressure vessel plate refers to a special steel plate for various pressure vessels. Mainly different from high strength board, shipbuilding board, ocean platform board, bridge board, low alloy board and corrosion resistant board, stainless steel board, etc.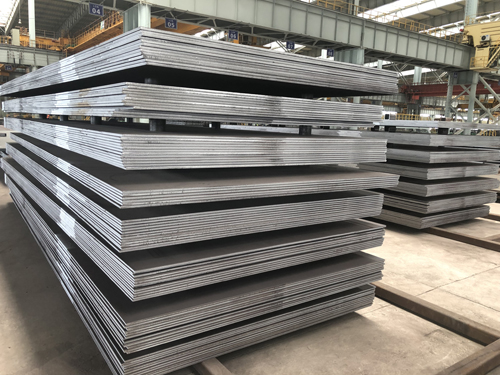 A516 Gr.70 boiler plate and pressure vessel plate are used to manufacture professional pressure vessel plates for the main equipment and parts of pressure vessels. Most of the pressure vessels are made of steel plates. The pressure vessel plate is subjected to hot and cold processing and welding during the manufacturing process, so the hot rolled A516 Gr.70 alloy steel plate is required to have good process performance and requires a certain strength and sufficient toughness to withstand external loads under normal working conditions. No brittle damage occurs. The pressure vessel plate develops low alloy steel and alloy steel on the basis of carbon steel. The carbon content of the steel is relatively low, generally not more than 0.20%, so that the pressure vessel plate has a lower carbon equivalent (Ceq) and a lower welding sensitivity coefficient (Pam) to ensure the welding performance of the steel. In addition, the pressure vessels are used in harsh conditions, and most of the vessels are filled with flammable and explosive gases, and have a certain pressure, which is prone to explosion accidents. Therefore, the pressure vessel plate is required to have better toughness. To ensure the safety of the container, three types of pressure vessels are generally manufactured using low-alloy plates or stainless steel plates. Aluminum pressure killed steel and nickel-containing steel are often used in the manufacture of pressure vessels. Our company specializes in stock hot rolled A516 Gr.70 alloy steel plate, pressure vessel plate, steel spot sales, steel plate cutting, A516 Gr.70 steel plate processing.
A516 Gr.70 hot rolled alloy steel plate is widely used in petroleum, chemical, power station boilers and other industries for the production of reactors, heat exchangers, separators, spherical tanks, oil and gas tanks, liquefied gas tanks, nuclear reactor pressure shells, boiler drums, liquefied petroleum Gas cylinders, high-pressure water pipes for hydropower stations, water wheel volutes and other equipment and components.