Contact us
: 0086-21-61182423
: 0086-21-61182425
: Room 301,Unit 6,lane 2500,xiupu Road,Kangqiao Industrial Area,Pudong New District,Shanghai
GB/T4171 Q415NH Weathering Steel Plate Chemical analysis
Posted:2016/7/30 3:51:11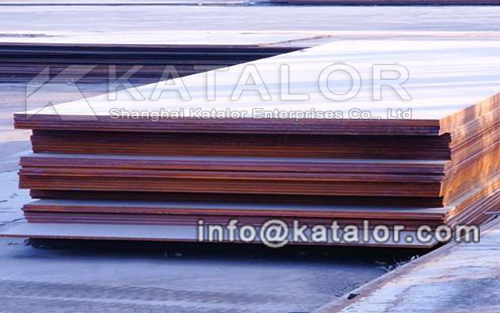 Q415NH quench metal plate steel major added metal elements are nickel, copper. These elements change the basic properties of the original carbon steel. Let carbon steel has a better mechanical properties. Q415NH quench metal plate steel for better corrosion resistance and can be used as processing materials aboard, the container, the train tracks.Compared to stainless steel, only trace amounts of alloying elements, alloys such as weathering resisting steel elements of total phosphorus, copper, chromium, nickel, molybdenum, niobium, vanadium, titanium, etc. is only a few percent.
Q415NH chemical elements composition:
Q415NH

C

Si

Mn

P

S

Cu

Ni

Cr

0.12

0.65

1.10

0.025

0.030

0.20-0.55

0.12-0.65

0.30-1.25
Q415NH Mechnical property:

Thickness (mm)

Q415NH

≤ 16

> 16 ≤ 40

> 40 ≤ 60

>60

Yield strength (≥Mpa)

415

405

395

395

Tensile strength (Mpa)

520-680
Q415NH Use:
Q415NH quench metal plate steel has a protective layer of rust resistance to atmospheric corrosion, it can be used in the manufacture of vehicles, bridges, towers, containers and other steel low-alloy structural steel.
Phone: 0086-18317160019
TEL: 0086-21-61182423
Fax: 0086-21-61182425
E-mail: [email protected]
Skype: shanghai.katalor
Address : Room 301,Unit 6,lane 2500,xiupu Road,Kangqiao Industrial Area,Pudong New District,Shanghai
Copyright © 2011 by Shanghai Katalor Enterprises Co., Ltd. All rights reserved