Contact us
: 0086-21-61182423
: 0086-21-61182425
: Room 301,Unit 6,lane 2500,xiupu Road,Kangqiao Industrial Area,Pudong New District,Shanghai
EN10083-3 34CrNiMo6 Alloy Steel Plate Heat Treatment
Posted:2017/4/10 4:11:11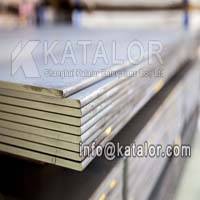 34CrNiMo6 alloy steel plate has high strength, because of its excellent comprehensive mechanical properties.EN10083-3 34CrNiMo6 is widely used in the manufacture of the engine camshaft and connecting rod and other important parts. But 34CrNiMo6 has poor processing, and it is a typical difficult to process material.
EN10083-3 34CrNiMo6 Chemical Composition:
C: 0.34
Si: 0.25~0.30
Mn: 0.5
Mo: 0.2
Cr: 1.5
Ni: 1.55
Mechanical Property of 34CrNiMo6 Alloy Steel Plate
After quenching and tempering treatment, the Hardness of 34CrNiMo6 material is 36 ~ 40HRC;The Tensile strength σb of 34CrNiMo6 material is 1 100 MPa,;The Elongation δ of 34CrNiMo6 material is 12%,;The Impact toughness value ακ of 34CrNiMo6 material is 8kg / cm2.
34CrNiMo6 Alloy Steel Classification:
1, quenched and tempered structural steel
The amount of carbon in this type of steel is generally about 0.25% to 0.55%. For structural sections of a given cross-section size, mechanical properties such as quenching and tempering during quenching and tempering (quenching and tempering) are good. If the quenching is past, microstructure appears free ferrite, the toughness decreased.
2, surface hardening structural steel
Surface hardened structural steel is used to make the surface hard and flexible parts of the heart, such as gears, shaft and so on. In order to make the parts of the heart of high toughness, the steel carbon content should be low, and generally is 0.12 ~ 0.25%, while the amount of alloying elements to ensure the appropriate hardenability.
We are a trusted and reliable brand for our high quality and good manufacturing of EN10083-3 34CrNiMo6 Alloy Steel Plate. Our company has been a manufacturer and exporter of 34CrNiMo6 for decades, and has been sold all over the world with favorable price. As a responsible enterprise, we always stick to be your satisfying partner.
Copyright © 2011 by Shanghai Katalor Enterprises Co., Ltd. All rights reserved