EN10028-6 P460QL1 Pressure Vessel And Boiler Steel application
Posted:2015-11-30 23:42:56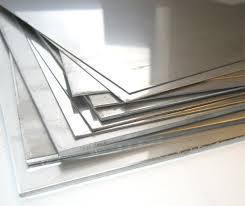 P460QL1 is the most common grade in specification EN10028_6, which is a kind of Quenched and Tempered.
Chemical elements composition of P460QL1
C

Si

Mn

P

S

B

N

Cr

0.18

0.50

1.70

0.020

0.010

0.005

0.015

0.50

Cu

Mo

Nb

Ni

Ti

V

Zr

0.30

0.50

0.05

1.00

0.03

0.08

0.05
Physical properties of grade P460QL1

Property

Density
kg/dm3

Temperature T
°C/F

Specific heat
J / kgK

Thermal conductivity
W/mK

Electric resistance
µΩ·cm

813 (≥)

231 (≥)

12

11

32

Solution and Aging, Annealing, Ausaging, Q+T,etc

Temp.
°C/°F

Creep strain limit
(10000h)
(Rp1,0) N/mm2

Creep rupture strength
(10000h)
(Rp1,0) N/mm2

-

-

-

828

977

283

-

-

-
Cold-rolled sheet: Thickness: 1-4mm Width:1000mm Length: 2000mm
Hot-rolled sheet: Thickness:4-120mm Width: 50-4000mm
Length: We can supply any length based on the customer's requirement.
P460QL1 Trade Term: FOB ,FCA,CFR,CIF
P460QL1 Application:
EN10028-6 P460QL1 Pressure Vessel And Boiler Steel Plate are used in petroleum, chemical industry, power station, boiler, etc, used to make the reactor, heat exchanger, separator, liQL1uefied gas, nuclear reactor pressure vessel, boiler steam drum steam, liQL1uefied petroleum, hydropower station, high pressure pipe, spiral case and other eQL1uipment and components.
Katalor can produce P460QL1 stainless steel round rods, P460QL1 forging,sheet,coil,and profiledstrip,Deformed steel,flat steel,mould,steel wire,have all specifications. With DuoNian production experience, strict control P460QL1 chemical composition and P460QL1 mechanical properties.From casting, forging, steel to hot and cold rolling process, heat treatment, etc, we have the control of professional engineers. We have advanced precision machining equipment, according to the requirements of users machining. in order to achieve the most satisfied with the user requirements.
Phone: 0086-18317160019
TEL: 0086-21-61182423
Fax: 0086-21-61182425
E-mail: [email protected]
Skype: shanghai.katalor
Address : Room 301,Unit 6,lane 2500,xiupu Road,Kangqiao Industrial Area,Pudong New District,Shanghai