ASTM A572GR.50 Steel Plate Benefit Application
Posted:2015-11-30 04:28:21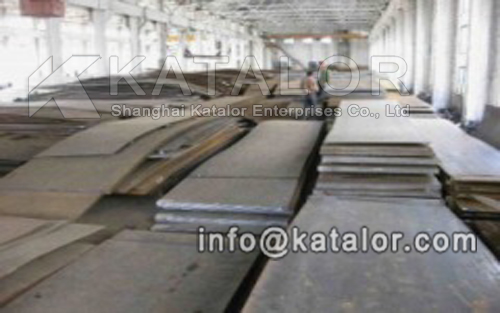 ASTM A572GR.50 Steel is a high strength low alloy (HSLA) columbium-vanadium steel. A572-50 plate is ductile and easy to form. It can be successfully machined with the appropriate techniques and is easy to weld.
A572 Grade 50Steel Chemical Composition
Grade

The Element Max (%)

C

Si

Mn

P

S

V

Ni

Co

A572 Grade 50

0.23

0.4

1.35

0.04

0.05

0.06

0.015

0.05
Mechanical properties of A572 Grade 50
Grade

Thickness(mm)

Min Yield (Mpa)

Tensile(MPa)

Elongation(%)

A572 Grade 50

8mm-50mm

345Mpa

450Mpa

21%

50mm-200mm

345Mpa

450Mpa

18%

The min impact energy is longitudinal energy
Equivalent grades of gradeA572 Grade 50
Germany
DIN,WNr

India
IS

England
BS

Sweden
MNC

Belgium
NBN

Europe
EN

Russia
GOST

FE410WC

43EE

SS14,14,01

AE 295 DD

S275 J2G3
Fe430 D2
S275NL
ASTM A572GR.50 Steel APPLICATIONS
ASTM A572 Grade 50 is considered a workhorse grade and is widely used in many applications. It is commonly used in structural applications, heavy construction equipment, building structures, heavy duty anchoring systems, truck frames, poles, liners, conveyors, boom sections, structural steel shapes.
Shanghai Katalor Enterprises had support oversea shipbuilding project, Oil or Gas project and constructing big infrastructural projects oversea since 2000, We export ASTM A572GR.50 Steel to Saudi Arabia, Iran, Iraq, United Arab Emirates, Qatar, Bahrain, Oman, Kuwait, Turkey, Egypt, Yemen , Syria, Israel, Jordan, Cyprus, Singapore, Malaysia, Indonesia, Thailand, Vietnam, South Korea and so on. If you have any need of ASTM A572GR.50 Steel Plate, please do not hesitate to contact us by email [email protected], we can do our best to help you!