ASTM A240 Martensitic 409 Stainless Steel Possible Alternative Grades
Posted:2/13/2017 1:37:24 AM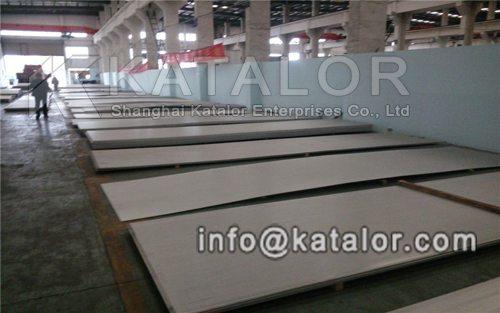 409 Stainless Steel combines good elevated temperature corrosion resistance with medium strength, good formability, and overall cost. ASTM A240 Martensitic 409is commonly considered as a chromium stainless steel, with applications in exhaust systems of automobiles and applications that demand weld ability.
Key Properties of 409 Stainless Steel
ASTM A240 Martensitic 409 properties given below relate to annealed tubing of ASTM A268. The specified properties may not be similar to other products such as bar and coil.
Composition ranges of grade 409 stainless steels

Grade

C

Mn

Si

P

S

Cr

Ni

Ti

409

min.
max

-
0.08

-
1.00

-
1.00

-
0.045

-
0.045

10.5
11.75

-
0.5

6x C
0.75
Mechanical properties of grade 409 stainless steels

Grade

Tensile Strength (MPa) min

Yield Strength 0.2% Proof (MPa) min

Elongation (% in 50mm) min

Hardness

Rockwell B (HR B) max

Brinell (HB) max

409

450

240

25

75

131
ASTM A240 Martensitic 409 Corrosion Resistance
Grade 409 stainless steels have excellent resistance to exhaust gas and atmospheric corrosion。 The surface of grade 409 steels is liable to mild corrosion, which limits the usage of steels for decorative purposes.
409 Steel Application
409 Stainless Steel has been successfully used in Automotive exhaust systems, Catalytic converters, Mufflers, Tailpipes, Farm equipment, Structural support and hangers, Transformer cases, Furnace components, Heat exchanger tubing
Our company is located in Pudong district of Shanghai city. It is only 30 minutes from Pudong International airport to our company. If you have chance to China, we sincerely invite you to visit us. We will pick you up at the airport if you tell us your schedule. We can take you to visit our steel mill and warehouse. Hope to build the long term good cooperation with your esteemed company! If you have any need of ASTM A240 Martensitic 409 stainless steel, please feel free to contact us by email info@katalor.com.
Copyright © 2011 by Shanghai Katalor Enterprises Co., Ltd. All rights reserved