Contact us
: 0086-21-61182423
: 0086-21-61182425
: Room 301,Unit 6,lane 2500,xiupu Road,Kangqiao Industrial Area,Pudong New District,Shanghai
ASTM A240 Grade 304(S30400) Stainless Steel Stable Price
Posted:2017/1/5 0:07:31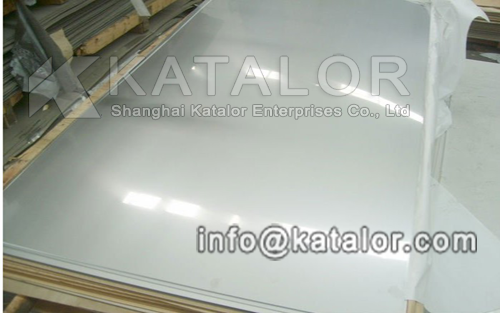 Alloy 304 exhibits excellent corrosion resistance and has a high ease of fabrication, outstanding formability. Alloy 304 is the most versatile and widely used alloy in the stainless steel family. Grade 304 is readily brake or roll formed into a variety of components for applications in the industrial, architectural, and transportation fields.
Chemical Composition and Mechanical Property:

Grade

Chemical Composition (%)

C Max

Mn Max

P Max

S Max

Si Max

Cr Max

Ni Max

ASTM A240M SS304 (S30400)

0.08

2

0.045

0.030

0.75

18-20

8-10.5

Grade

Mechanical Property

Tensile Strength(MPa)

Yield Strength(MPa)

% Elongation in 2 in.(50mm) min

ASTM A240M SS304 (S30400)

515

205

40
Physical properties of 304 grade stainless steel in the annealed condition

Grade

Density (kg/m3)

Elastic Modulus (GPa)

Mean Coefficient of Thermal Expansion (μm/m/°C)

Thermal Conductivity (W/m.K)

Specific Heat 0-100°C (J/kg.K)

Electrical Resistivity (nΩ.m)

0-100°C

0-315°C

0-538°C

at 100°C

at 500°C

304/L/H

8000

193

17.2

17.8

18.4

16.2

21.5

500

720
304 Stainless Steel applications, including:
1, Chemical containers, including for transport
2, Food processing equipment, particularly in beer brewing, milk processing, and wine making
3, Kitchen benches, sinks, troughs, equipment, and appliances
4, Woven or welded screens for mining, quarrying water filtration
5, Automotive and aerospace structural use
6, Nuts, bolts, screws, and other fasteners in the marine environment
7, Construction material in large buildings
Our all-round service helps meet these requirements. From materials to processing to just-in-sequence delivery, we are the perfect supplier and exporter for your procurement needs. If you cooperate with us, we Katalor should never and definitely won't disappoint you. If you have any needs about ASTM A240 Grade 304(S30400) stainless steel, please contact our sales team freely.
Copyright © 2011 by Shanghai Katalor Enterprises Co., Ltd. All rights reserved