Contact us
: 0086-21-61182423
: 0086-21-61182425
: Room 301,Unit 6,lane 2500,xiupu Road,Kangqiao Industrial Area,Pudong New District,Shanghai
ASTM 2304(S32304) Stainless Steel ASTM Equivalent
Posted:2016/12/7 22:50:27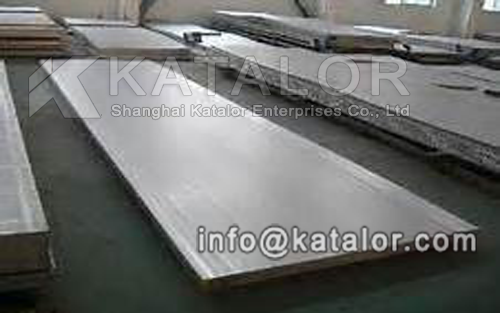 Stainless steel grade Duplex 2304 is a duplex stainless steel type, 2304 steel has high strength and toughness, resistance to stress corrosion cracking, high thermal conductivity, low thermal expansion, and easy fabrication.Stainless steel grade Duplex 2304 is used by various industries including pulp and paper, coal handling, potash, food and beverage, and waste water.
ASTM A240 2304 Chemical Composition
Grade

The Element Max (%)

C

Mn

P

S

Si

Cr

Ni

ASTM A240 2304

0.03

2.5

0.040

0.030

1.0

21.5-24.5

3.0-5.5

Mo

N

Cu

Cb

Ti

0.05-0.60

0.05-0.20

-

-

-
Mechanical Property of 2304(S32304) Stainless Steel
Grade

ASTM A240 2304 Mechanical Property

Yield

Tensile

Elongation

Hardness, max

ASTM A240 2304

Min Mpa

Mpa

Min %

Brinell

Rockwell B

400

600

25%

290
2304(S32304) Stainless Steel Application
2304(S32304) Stainless Steel is mainly used in Water heaters, Heat exchangers, Pressure vessels, Feed water tubes, Heat exchangers, Flue-gas, cleaning, Seawater systems, Desalination plants, Parts for structural design, Rotors, impellers and shafts, Firewalls and blast walls on offshore platforms, Cargo tanks and pipe systems in chemical tankers, Piping and instrumentation tubing for general service.
ASTM 2304(S32304) Stainless Steel Manufacturing Process
Duplex 2304 Welding can be performed using most of the traditional methods such as gas–tungsten arc welding (GTAW), submerged arc welding (SAW), and gas–metal arc welding (GMAW).
2304 STAINLESS steel Hot working can be done after heating the material to 954-1093°C (1750-2000°F), which is followed rapid cooling. Annealing after working is recommended.
We are a trusted and reliable brand for our high quality and good manufacturing of ASTM 2304(S32304) Stainless Steel. Our company has been a manufacturer and exporter of ASTM 2304(S32304) for decades, and has been sold all over the world with favorable price. As a responsible enterprise, we always stick to be your satisfying partner.
Company Name: Shanghai Katalor Enterprises
Address:Room 301,Unit 6,lane 2500,xiupu Road, Kang qiao Industrial Area, Pu dong New District, Shanghai
TEL:0086-21-61182423
Fax :0086-21-61182425
E-mail:[email protected]
Phone:0086-18317160019
Copyright © 2011 by Shanghai Katalor Enterprises Co., Ltd. All rights reserved