A516 Gr.70 Plates Heat Treatment
Posted:2018-11-30 17:20:17
A516 Gr.70 material is a carbon steel plate for medium and low temperature pressure vessels and performs ASTM standards. We will strive to build a first-class A516 Gr.70 steel enterprise to provide you with faster and more intimate service!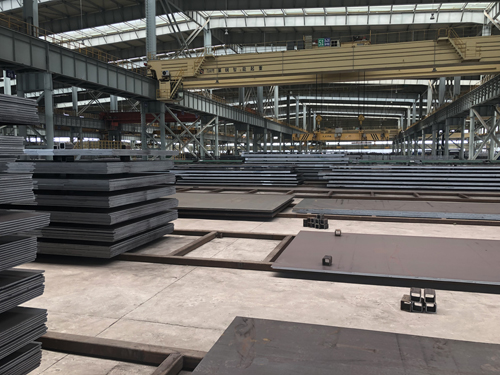 Pressure vessel grades are: A515Gr50, A515Gr60, A516Gr65, A516 Gr.70 A516Gr485, A515(M)Gr50+N, A515(M)Gr60+N
Executive Standard: ASTM Standard
Steel grade: A516 Gr.70, A516 Gr70N
A516 Gr.70 Steel plate chemical composition
C ≤ 0.30, Mn: 0.79-1.30, P ≤ 0.035, S: ≤ 0.035, Si: 0.13-0.45.
A516 Gr.70 Plates Heat Treatment
1.A516Gr55, A516Gr60, A516Gr65, A516 Gr.70 thickness ≤1.5in, (40mm) steel plate is usually supplied in rolling state, steel plate can also be normalized or stress relieved, or normalized plus stress relief order.
2. Thickness > 1.5 in. (40 mm) The steel plate should be normalized.
3. Unless otherwise specified by the purchaser, steel plates with thickness ≤ 1.5 in, (40 mm) shall be normalized when there is a notch toughness requirement.
4. If approved by the purchaser, a cooling rate greater than that in air is allowed to improve toughness, but the steel plate is then tempered in the range of 1100-1300 degrees F (595-705 ° C).
A516 Gr.70 plates application
A516 Gr.70 is widely used in petroleum, chemical, power station, boiler and other industries for the production of reactors, heat exchangers, separators, spherical tanks, gas tanks, liquefied gas tanks, nuclear reactor pressure shells, boiler steam drums, liquefied petroleum gas cylinders. Hydropower station high-pressure water pipes, water wheel volutes and other equipment and components.
The A516 Gr.70N meets the requirements of the (ASME) ASTM A516/A516M standard and is designed to meet the high sulfur and hydrogen oil gas requirements, reduce sulfur and hydrogen corrosion, reduce equipment overhaul, and increase equipment life. The steel plate has the characteristics of good impact resistance, small temperature deformation, good welding performance, good anti-fatigue performance, good anti-layer cracking performance, microalloying, high purity, low carbon equivalent anti-sulfur hydrogen capacity, and products. With good dimensional tolerance and surface quality, Henan Changshen Iron & Steel Co., Ltd. is currently available for steel plates up to 200mm thick. The domestic general requirements for the use of AGr70, A516Gr60 is very small, because its performance is more common, China A516 Gr.70, is now widely used in major chemical sites.