Contact us
: 0086-21-61182423
: 0086-21-61182425
: Room 301,Unit 6,lane 2500,xiupu Road,Kangqiao Industrial Area,Pudong New District,Shanghai
ERW, DOM, and Seamless Tube From China
Posted:2016/5/19 2:06:07
The nomenclature ERW refers to a specific type of welding process that involves both spot and seam welding. Seam welding is commonly used during the manufacturing of round, square and rectangular steel tubing. The steel strip is unwound from coils and side-trimmed to control width and condition the edges for welding. The strip then passes through a series of contoured rollers which cold-form the material into a circular (square or rectangular) shape. The edges are forced together under pressure as a butt joint and then welded by heating the material to temperatures above 2000° F. The flash weld that has formed is now removed from the outside diameter of the tube. Once the weld has been tested the tube then passes through a series of sizing rolls to attain its precise finished size, after which the tube is then straightened and cut to length.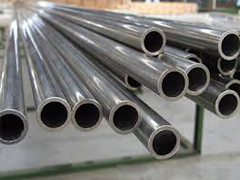 The material used in the manufacturing process is typically SAE 1010. This product is typically available inCold Rolled steel (CREW) for 0.060" wall and lighter and Hot Rolled steel (HREW) for 0.083" wall and heavier. The product will come in an "as-welded" condition, (often called – flash-in condition) referring to when the flash from the weld is left on the inside of the tubing, it is not normally removed or controlled during the ERW tube production process.
(DOM) Drawn Over Mandrel
Technically, DOM is not a type of steel tube, but rather the process in which the tube is finished. It is considered a high quality tube, and is normally constructed from SAE 1020 or 1026 steel. well dom stands for drawn over mandrel meaning it is seamless tubing. hrew is rolled over and welded at a seam. so dom is stronger being one solid piece. you also have to think that the smaller the tubing, the less it will dent because there is less area inside the tubing for it to push in, and a smaller diameter means the tube is a tigher overall circumference which makes it stronger. also wall thickness comes into play. i use 1 5/8" dom, because it's unique and no one uses it. but i'd say use 1.5" dom with a .120 wall for toyotas, and heavier full size rigs (dodge chev ford) i'd use 1.75" dom with a .156 or .188 wall tubing.
Seamless Mechanical Tubing:
The seamless tube is manufactured using a process called "extrusion". During this process a solid steel bar is pierced though the centre using a die, turning the solid round into a round tube.
Basically there are two types of seamless tube:
Cold Drawn Seamless (CDS) normally made from SAE 1018, having precise tolerances and good surface finish
Hot Finished Seamless (HFS) normally made from SAE 1026, having less critical tolerances and a scaly finish – Not as strong as CDS
Benefits of Cold Drawn Seamless (CDS):
Good surface finish – Superior machinability – Increased dimensional tolerances – High strength to weight ratio
Benefits of Hot Finish Seamless (HFS):
Cost effective material – Good Machinability – Wide range of sizes
Copyright © 2011 by Shanghai Katalor Enterprises Co., Ltd. All rights reserved